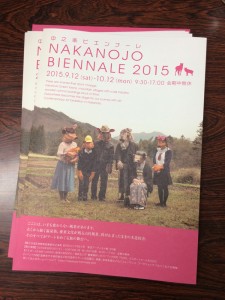 ちょうど1ヶ月後!にスタートする中之条ビエンナーレに参加しています。リーフレットもでき、公式ウェブサイトの内容も講演・イベントや参加アーティストの個人ページなどと充実してきておりますので、ぜひご覧ください。
私の展示会場は中之条町エリアの旧廣盛酒造で、幅3mほどの大作のほか新作を中心に展示します。
公式パスポートに使用してくださっている作品"soft planet"は、昨年のTWW、Coffee&Artではミネルバにて展示していた絵で、今回も展示することができそうで嬉しく思います。
今回の参加の動機は、大きい空間に対応して、絵と絵の関連を意識し、展示空間をきちんとつくりたい(できるかどうか試したい)というものでした。そういう作家になれればと思います。一昨年の個展で展示空間に関する課題を自分に感じ、昨年の個展である程度進歩したかなと思いましたが、まだまだ小さい空間でのことでした。
今回、今までで一番大きい空間を経験させていただいていると思います。まだ不安もありますが、ぜひご高覧いただけますよう、どうぞよろしくお願いします。
///////////////////////////////////////////
中之条ビエンナーレ
NAKANOJO BIENNALE 2015
2015.9.12 (Sat.) – 10.12 (Mon.)
http://nakanojo-biennale.com
///////////////////////////////////////////
There's only one month left before the opening of NAKANOJO BIENNALE!
I will show my new works, including a big painting that is about 3meters in width, at Former Hirozakari Brewery in Nakanojo town area.
In addition, I'm very happy that "soft planet", which is the painting used as a main image of the official passport, will be exhibited at the venue.
What motivated me to participate in this exhibition was very simple. I'd like to become an artist who can consider the relation between each works and make a big exhibition space properly. I'd be glad if you could visit and see my challenge there.