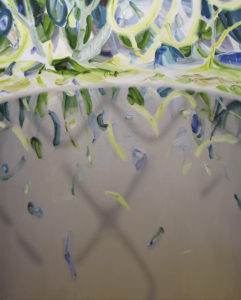 お知らせ。10/12より高崎のViento Arts Galleryにて個展がスタートします。新作、暗い色の線を描いてみています。ちょっとまだ難しい。昨年から絵具の厚みについて考え直してきたところ、今回近作と並べて、同じビジョンでも内容充実してきたのかどうか、、、と確かめたいです。中之条の作品は、出しません。都心からは離れてますが、足を運んでいただけますと幸いです。初日レセプションあります。どうぞよろしくお願いします。
■■■
古橋香/泥濘の島
会期:2019年10月12日(土)-11月17日(日)*火-金曜休廊
時間:12:30-18:30
会場:ビエントアーツギャラリー
10月12日 17:00~ レセプション、トークイベント
https://www.vientoarts.com/
中之条ビエンナーレは、先月無事終了しました。遠くまで足を運んでくださった方、どうもありがとうございました!
This new painting is one of the works that will be exhibited as part of my next solo exhibition at Viento Arts Gallery in Gunma. This time I'm trying to draw dark color lines instead of white ones. The show runs from 12 October – 17 November with a reception on the first day.
//////////////////////////////
Kaori Furuhashi Exhibition "Islands in the Mud"
Dates: Oct. 12- Nov. 17, 2019 *Closed on Tue. – Fri.
Hours: 12:30-18:30
Venue: Viento Arts Gallery, Gunma, Japan
Reception & Talk Event Oct. 12, 17:00-
https://www.vientoarts.com/
Nakanojo Biennale had successfully finished last month. I greatly appreciate that you came. Thank you.