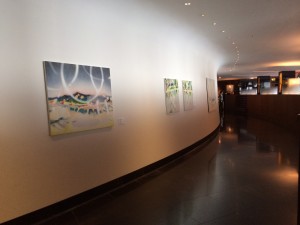 昨日より、東京、森タワー51階の六本木ヒルズクラブにて個展開催、ご紹介いただいてます。会員制レストランのフロア。わたし、全く縁のない場所に出入りしてきました…
新作が手前の1点、ほかは旧作16点の展示です
回廊部はなんだかマッシュルームのふもとのような壁で、かわいらしいのです。
基本メンバーオンリーですが、メンバーの方がお仕事でお客様を招いたりすることも多々あるそう。あと、結婚式場としても。
そういうわけで、、、もし機会がありましたら、ご高覧ください。
始まったばかりの六本木クロッシング観させてくださり、リフレッシュ。シナボン買って、無事帰りました。暖かい日で、よかった。
////////////////////////////////////////////////
Kaori Furuhashi Solo Exhibition
Dates: March 28 (Mon) – June 24 (Fri), 2016
Venue: ROPPONGI HILLS CLUB / Tokyo
*Members Only
////////////////////////////////////////////////
Yesterday my solo show started at Roppongi Hills Club, the 51st floor of Mori Tower, Tokyo. It's a Members Club and has some restaurants, bars and event spaces.
I've presented one new piece, which you can see on the left of the picture above, and 16 works I've done before.
This corridor looks like the bottom of a mushroom. really mild line :)
This exhibition is basically limited for the members… However, I heard that they sometimes invite their guests to the club in some business situations.
So if you have an opportunity to get there, please look at my recent works. Thank you!
After the display of my works, I was glad that I got invitation tickets of the exhibition "Roppongi Crossing 2016," just started from last weekend. It made me refreshed.
bought "Cinnabon" and went back to home. nice and warm day.