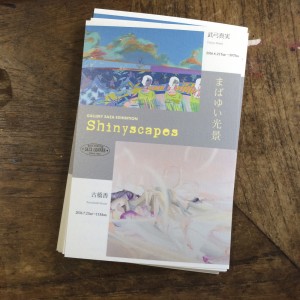 初夏。個展をいたします。
"Shinyscapes まばゆい光景" 古橋香
会期: 2016/7/2 (sat) -7/11 (mon)
時間: 10:00 – 18:30 最終日は15時まで
会場: ギャラリーサザ
表題の連続個展の2期目というかたちで、大森潤也さんにコーディネイトしていただき、個展を開催することとなりました。ひたちなか市のサザコーヒー本店内にあるギャラリーになります。
今年の新作は半分弱、昨年の中之条での作品を加えた構成になりそうです。
ときにはベビーをエルゴで抱えて頭のにおいをかぎながら描いた絵。和みますが思うようには進みませんね。
土日の午後、在廊いたします。
10日は、選挙投票後にぜひお越しください。
お近くの方、どうぞよろしくお願いします。
//////////////////////////
I'm so glad to inform you that my solo exhibition will be held next month!
This show, titled "shinyscapes," is a series of two solo exhibitions curated by Junya Omori. My show will start on July 2nd.
During the period I will be in Gallery Saza on Saturdays and Sundays afternoon. Come and see my new works and the large piece once exhibited at Nakanojo Biennale last year!
"Shinyscapes" Kaori Furuhashi Solo Exhibition
Dates: July 2nd (Sat) – 11 (Mon), 2016
Time: 10:00 – 18:30 *on last day closes at 15:00
Venue: Gallery Saza (Saza Coffee main store)